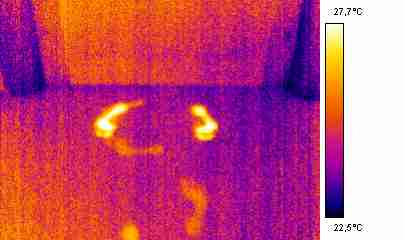 Assessment of camouflage materials and analysis of construction material for thermographical inspections, verification and validation of thermal simulations.
The rendition of an object in a thermal image (signature) is decisively influenced by its environment. In order to make a statement about the visibility of an object in a certain environment, it is therefore necessary to determine the influence of decisive environmental factors on the thermal appearance.

Procedure
A method for characterizing distinctive features of textiles worn on a thermal image has been realized.
For this purpose, a textile is placed on a heating plate with a temperature control in the environmental simulation laboratory. The temperature is set to 34 °C, which corresponds to the skin temperature of the human body. Afterwards, a sequence of thermal images is recorded at different wind speeds for 5 min at a defined air temperature in four different environmental scenarios with an image frequency of 1 Hz under the following conditions:
Without any radiation sources

Artificial sun as source of radiation

Artificial sun and cold sky as source of radiation

Cold sky as source of radiation